Threats to International SEO: Content Localization & Technical SEO
07. 05. 2020
Autor

Thea Zinner
In this part of International SEO threats, I will tell you what details you should pay particular attention to when localizing your content for your website and how to deal with some of the most common technical matters.
Getting the best possible search results and ranking for a website or an online shop is a complex matter. If your website is additionally created in several languages and focused on more than one country, the task does not really become any easier.
In this part of International SEO threats (click here for part 1 – preparation & domain threats), I will tell you what details you should pay particular attention to when localizing your content for your website and how to deal with some of the most common technical matters.
Content threats
Content consists of much more than just the obvious texts. Content consists of a logical structure, navigation, images, localization and obviously – keywords. The question arises: How do we find out how we should write a text for a landing page for example? With keyword research!
Logically the biggest threat would be not doing keyword research. The consequence? You will not have any information about whether or how your services and products are searched for.
But the problem is more than only not doing it – there are many other ways how to do it incorrectly:
For example, it can be very tempting to translate an existing keyword research, because you already have an up to date keyword research for your local market in Czech, and you want to save money because the whole expansion process itself is a costly venture – sounds reasonable?
The problem is that you will miss out a lot of keywords if you don't create new keyword research for the new market – this is how it can look like: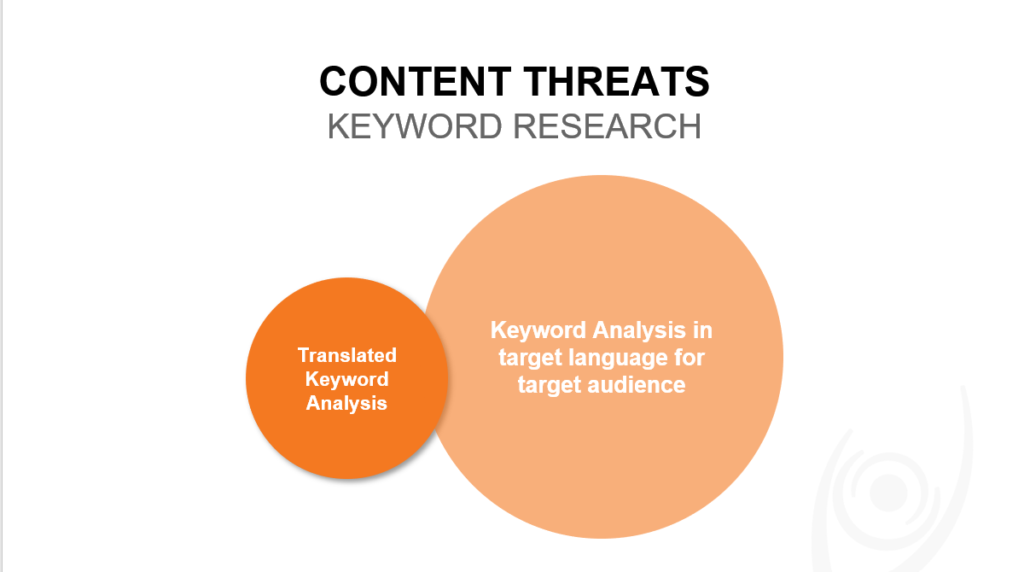 So now it is time for examples to show you in a visual way what I am trying to tell you.
Example 1: Wedding rings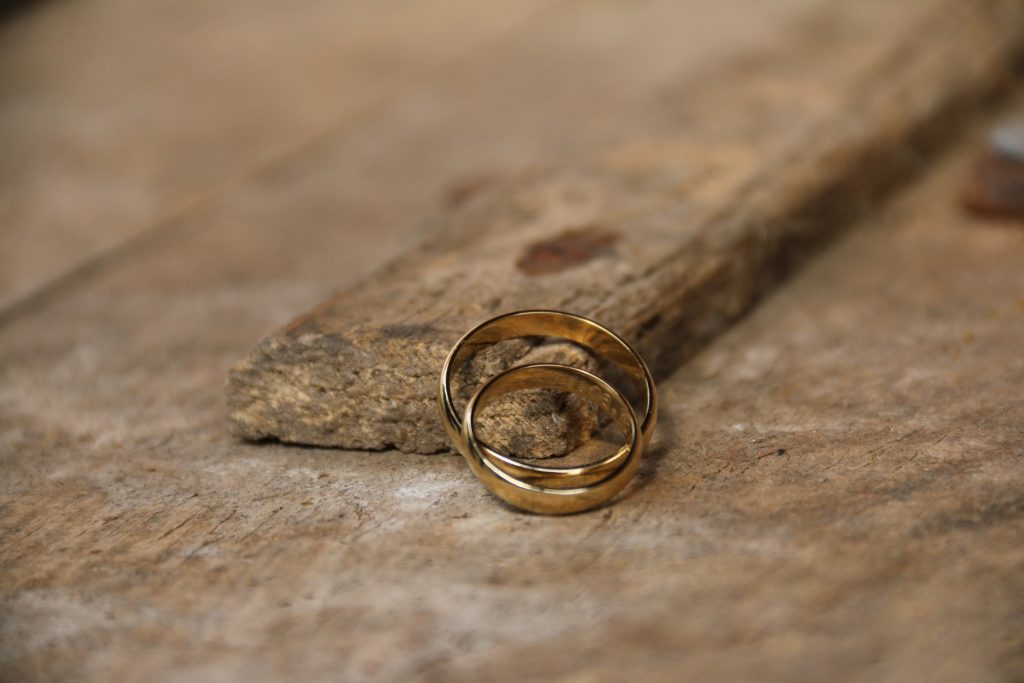 And here's the translation:
EN: wedding ring, wedding bands
CZ: snubní prsten
DE: Ehering, Hochzeitsring, Trauringe
You can see, for the keyword wedding ring, there are several ways to say it for example in German. If you don't do proper keyword research – how do you decide which term you choose for your landing page?
Example 2: Blueberries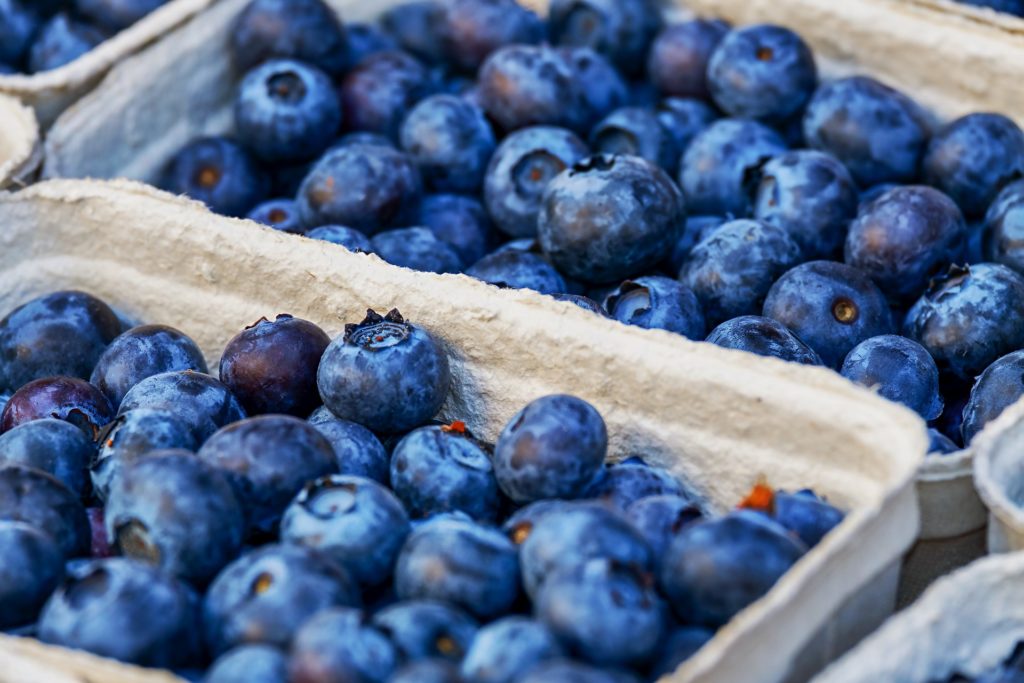 Another example, but slightly different. What we can see here are blueberries obviously. In Czech, it would be translated to borůvky. But in German, we have (at least) two different words for this delicious berry: Blaubeeren and Heidelbeeren. Which terms Germans use, is totally up to where they are from in Germany.
Example 3: Projector
This example can show you, that the correct translation of a word, does not mean that people would actually use this word when they start searching for it online. In English it's a projector, in Czech it is very similar: projektor. And so is German: Projektor. BUT usually, Germans would use the word Beamer to search for this product. This example shows you hopefully, that without keyword research and just plan translation, you will miss out on a lot of important keywords.
Translating existing keyword research is a real threat to international SEO because it will lead to non-accurate results.
Users will search differently for certain queries (projector example).
You will miss out on variants of your products and services (blueberry example).
But content threats are not only about keyword research – there are way more mistakes to make when it comes to localizing content:
One common misconception in creating a website in a different language is simply to clone a site for the new market with the help of an online translator. Don't do it.
To save on translation costs, many sites implement a module like a translation software to their CMS to create the translation. Similar to the blueberry example, one word could have multiple meanings. You might think this decision is saving money, but it will cause more problems later on when you start localizing the content or optimizing because it doesn't show the results you wished for.
Not including native speakers from the beginning: A native speaker is there to tell you immediately how to translate something if this word is actually the best translation etc.
What you should do instead:
If you have a very large amount of content that you cannot afford to translate, choose some of the most important content for a human translation, such as the main category, product pages and maybe checkout if you have an e-commerce website.
The second option could be to release more important products, with the highest margin first, and not to make the whole website available in the new country from the beginning. The rest can be translated step by step.
Localizing content for your website and all other marketing materials is crucial, users want to feel safe and home when they visit your website and look for websites they can trust – and on factor to create trust is 100 % translated and localized website.
Let's imagine keyword research is done, the website is perfectly localized – still, there are some threats left that could harm your online presence and sales. Of course, I am talking about technical threats.
Technical Threats
The problem with technical SEO errors is that, for example, you or your potential customers have problems with your website or the website is not behaving as expected, but you do not know exactly why, as these are sometimes not very obvious at first glance.
Technical SEO is usually more about how the web can be crawled and indexed for example. That's why the next aspect is of particular importance for international SEO.
International SEO and the hreflang attribut
So let's first focus on the hreflang attribute. hreflang is intended for multilingual websites and indicates to search engines the relationship between pages in different languages on your website or between your domains.
Google uses the attribute to serve the correct regional or language URLs in the SERP based on the user's country and language preferences. Sounds easy but isn't – Unfortunately, there is no one-size-fits-all approach and every implementation of hreflang is unique to the website.
That's also why John Müller from Google says:
Syntax & implementation of hreflang
A correct, common hreflang attribute looks like this:
<link rel="alternate" href="http://www.example.com/" hreflang="en-us">
It basically consists of three components:
rel = "alternate" → indicates that there is an alternative version of the page
href = "https://www.example.com" → here is the absolute URL of the other page
hreflang = "en-US" → this part determines the language, optionally with country code for the URL. In this example, en is the language in ISO 639-1 format, and US is the optional country code in ISO 3166-1 Alpha 2 format.
The hreflang attribute can be implemented in websites in three different ways: As an HTML link element in the HTML header (quick and easy), in the HTTP header (for non-HTML content, e.g. PDF) or via XML -Sitemap (large websites with lots of URLs).
Most common hreflang mistakes
Missing Return Links: For a proper functioning hreflang tag it is essential that every line of hreflang code that references another page has the same hreflang code designated on every page it references.
Incorrect Language Codes: All hreflang attributes must use the ISO 639-1 format for all language codes. A common error, for example, is using "uk" for the United Kingdom instead of "gb." Or "Cz" for the Czech Republic instead of the correct code, "cs".
Incorrect or Missing Canonical Tags: By using canonical tags you can tell Google and other search engines which page is your preferred page to index. If a canonical tag points to a different page or is missing entirely, it is likely to happen that all of the versions of your page are being de-indexed.
Missing or Wrong "x-default": The usage of the "x-default" is an often debated topic in SEO. An "x-default" tells Google where to send traffic when none of the hreflang tags apply. Its purpose is mainly a UX topic.
Use of relative instead of absolute URLs: All links listed in the hreflang tags must be absolute URLs and not relative URLs.
Implementing hreflang – nice to know:
Luckily, the international targeting report in Google Search Console will report for you any errors that happen with your hreflang implementation. Definitely, this is a helpful place to start to see whether Google has identified any issues with your current implementation and to fix them.
There are also free and handy tools you can use for the creation of your hreflang code on your page and/or XML sitemaps.
When you should use hreflang
Same language, different regions:
here: language english, country US and Great Britain
<link rel="alternate" href="http://www.example.com/" hreflang="en-us"><link rel="alternate" href="http://www.example.co.uk/" hreflang="en-gb"><link rel="alternate" href="http://www.example.com/" hreflang="en">
Same region, different languages:
here: language englisch and french, country Canada
<link rel="alternate" href="http://www.example.ca/en/" hreflang="en-ca"><link rel="alternate" href="http://www.example.ca/fr/" hreflang="fr-ca">
Auto-redirecting or "choose your language/region" page?
Browsers can usually auto-redirect users to specific country pages, based on cookies, IP address, and/or browser language. As a web owner, you should never auto-redirect the user. This will lead to a very negative and frustrating user experience.
Instead, you should work with the x-default tag. It specifies that a specific website is shown to all those who have not already been served by another language variant. Also, the x-default tag is good because you can tell Google with this tag the page to show when Google cannot determine where the user is from or located.
Meta Content Language Tags
Hreflang works for Google, Yandex and Seznam. Also for Naver, but here only if implemented via Sitemap.
But for Bing and Baidu or Naver and other search engines, there's a problem – they do not currently support hreflang tags. Instead, they pay attention to the language meta tag.
<meta http-equiv="content-language" content="de-DE">
International targeting in Search Console
As the operator of a website, you can specify the language and geographic targeting of your website in the Google Search Console if you are not working with ccTLDs but gTLDs like .com.
However, targeting in the Search Console and hreflang is not yet sufficient for search engines to understand, classify and rank your content correctly. Google and other search engines evaluate other factors for geotargeting:
Translated content of the page/language
Translated URLs
Local links from ccTLDs
NAP info — this could also include local currencies and links to Google My Business profiles
[Server location: According to Google, the server location is not a factor for geotargeting. However, it has an indirect influence on rankings in the SERPs, since Google evaluates the speed of the website (Pagespeed) as a ranking factor. However, the speed depends, among other things, on the server location (the closer the server, the faster the website is loaded). For international sites, it is, therefore, advisable to deal with the topic CDN – Content Delivery Network, which solves this problem).]
Final thoughts
Make sure to identify the implications of going international from the start, otherwise, you might end up wasting your time and resources.
Expansion is like creating a whole new business, and international SEO has additional costs that simply cannot be avoided.
If you don't plan the expansion properly, you will discover too late that there's no way your sales are going to be as high to compensate for the needed international investment.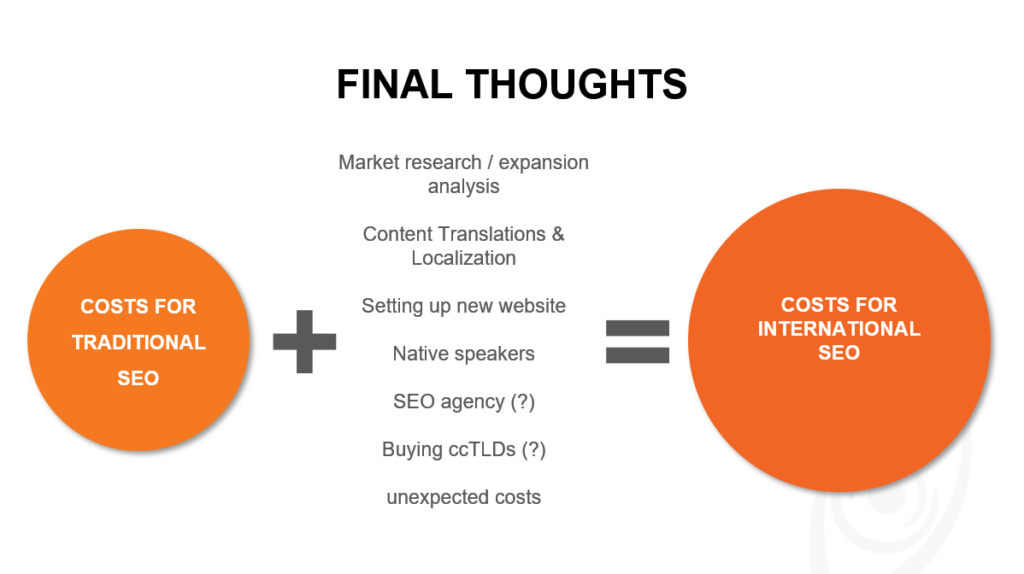 Don't forget that:
The costs for international SEO are an investment in your business' future.