PAID ADVERTISING
By professional performance and brand campaigns, you can quickly increase the traffic on your website and promote your brand in order to increase the conversion opportunities.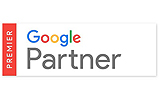 Search Engine Advertising - SEA
Ads above the organic search results in search engines are an important source of customer acquisition.
Banner Advertising
Banner ads are ideal to address your target audience on other websites.
Google-Shopping
Currently one of the best ways to attract new customers with a high conversion opportunity.
Remarketing
Turn the former visitors of your website into customers by targeted response.
PPC-Audit
We analyze your Adwords account for its strengths and weaknesses and help you to optimize it.
Individual consultancy
Every customer and every project receive individual consults and effective solutions, which are perfectly coordinated.
Our promises
Our team shows initiative and has many years of experience in Paid Advertising, which, among others, is confirmed, by our partnership with Google.
The online world is changing on a daily basis – therefore we educate ourselves constantly, follow all the latest trends in online marketing and leverage that knowledge to provide you with the best and most effective solutions.
Each project receives a complex consultation from us – we won't give you just an isolated Paid Advertising campaign but will become your partner, on who you can rely on all online channels.
Flexibility is our focus and that's why we address your individual needs, goals, and ideas.
An agency – many countries. With our international experience, you are well-positioned in the target market, because we do not only optimize internationally but also specifically.
Individual consultation and a tailor-made solution design are our priority. No website, no idea, no project is like another – and we know that.
Our satisfied customers