Unforgettable ads
20. 04. 2016
Autor

Jaroslav Vidim
Advertising is nowadays a common part of our lives, just like the everyday walk to work, lunch, or autumn depression. Ads follow us everywhere and there is almost nowhere to hide. They hunt us during the whole day and sometimes even in the dreams.
They focus on our basic emotions (fear, expectations, surprises, loyalty, …), feelings (love, friendship, …), bodies (thirst, hunger, appetite, pain, instincts, …), curiosity, sense of humour, nostalgia and any other kinds of emotions, perceptions, etc. Since there are so many, it is no wonder that we barely pay any attention to them. However, from time to time there is a really great ad that can truly attract us, make us laugh, make us cry or even educate us. Today I would like to show a couple of ad campaigns that are close to my heart. The purpose of this article is not to evaluate the effectivity of the campaigns, its targeting, quality, or any other measurements. It's just all about my favourites and these are:
1. Print Adverts
ABSOLUT
One of the most genius ad campaigns of all time is in my opinion the print advertising by Vodka Absolut. It has run constantly since 1979 and I enjoy its simplicity and directness. We could have seen the shape of the bottle in more than 1 500 different forms. Look at these few examples:
A very important part of the whole campaign is the ability to harmonise the message of the brand with the city or place it is advertised in. One of the examples could be Prague, even though it is not the absolutely best creative from this series.
If you want to see all the creatives, follow these links:
4SR
As a man and a motorbike rider I am always pleased by the prints that creates 4SR, a Czech manufacturer of motorbike clothing. Some people might call it un-PC, especially concerning the gender inequality. On the other hand, if you look at the target group, you realize that 4SR hit the bull's eye.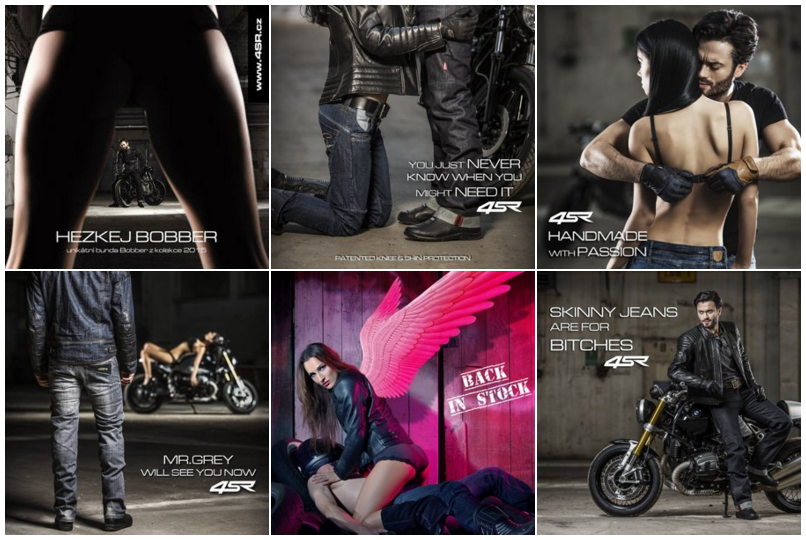 2. Guerilla Marketing
There are examples of well executed guerrilla campaigns all over the world. Except for products and services propagation, this kind of marketing is also used for moral and global topics, such as poverty in developing countries, ecology, saving of endangered species, health protection, safety or pointing out the dangers in our society (child molestation, etc.). The use of guerrilla marketing can be very powerful and provocative as a part of a direct competition, as you can see on the following examples (FedEx vs DHL, FedEx vs UPS, Audi vs BMW):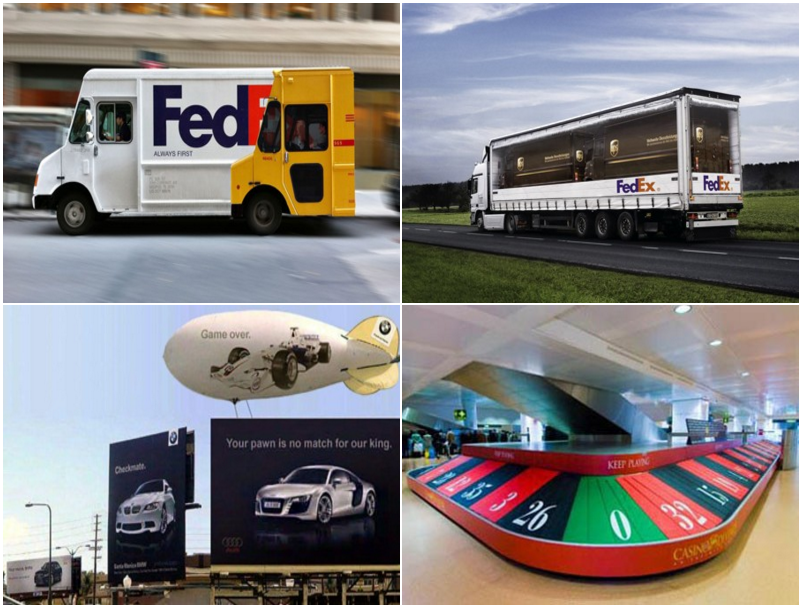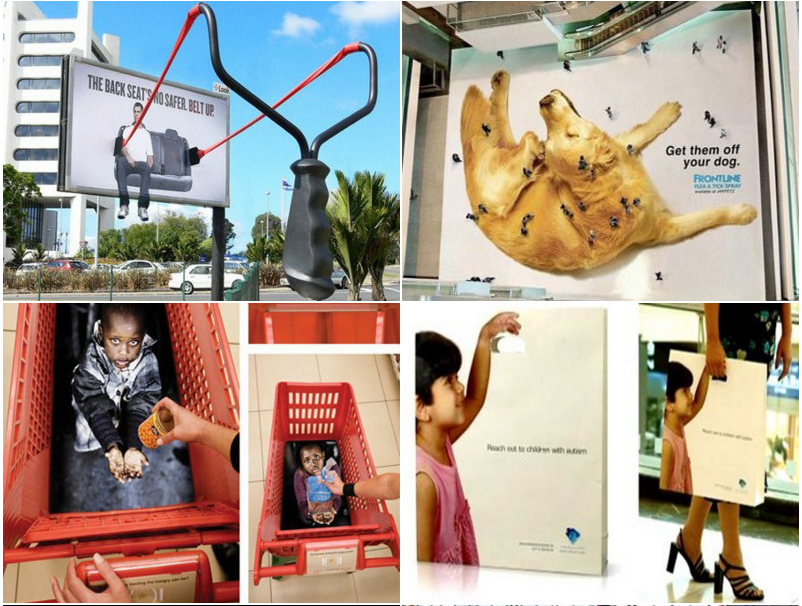 My favourite guerrilla campaigns are by Mini, because they are funny, original, playful, and MINImalistic.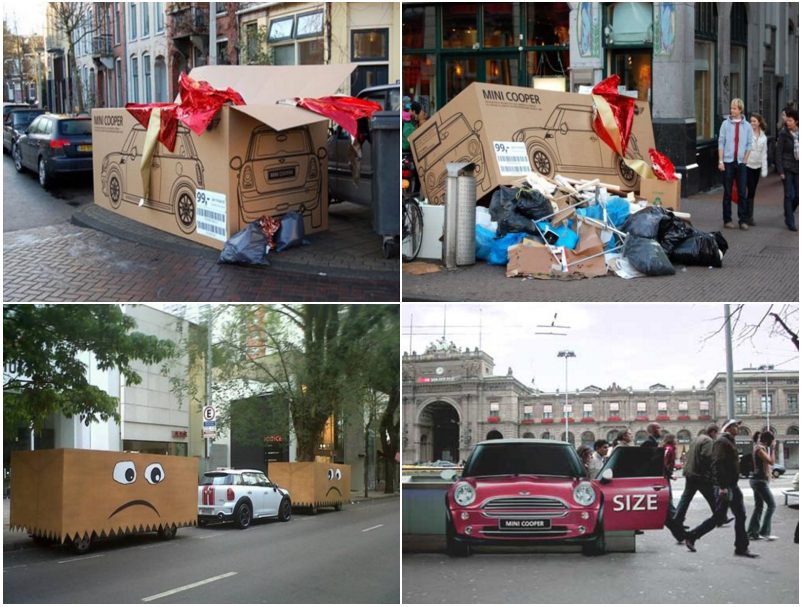 If you are interested in guerrilla marketing, I recommend you to check for example http://blog.guerrillacomm.com or go through the all-time TOP 80 of guerrilla marketing http://blogof.francescomugnai.com/2009/11/the-80-best-guerrilla-marketing-ideas-ive-ever-seen/.
3. Outdoor Advertising
Thinking of all the billboards I have seen over the past few years in the Czech Republic, the best billboard campaign has been In my opinion the one by Kooperativa (insurance company). Fresh, original, funny – that is how I would describe it. You can spot it on various bridges and also in ski centres. Just check these few examples, so that you know what I am talking about. The full set of pictures is to be found on the Kooperative FB account: https://www.facebook.com/media/set/?set=a.523022057708333.119567.221119377898604&type=3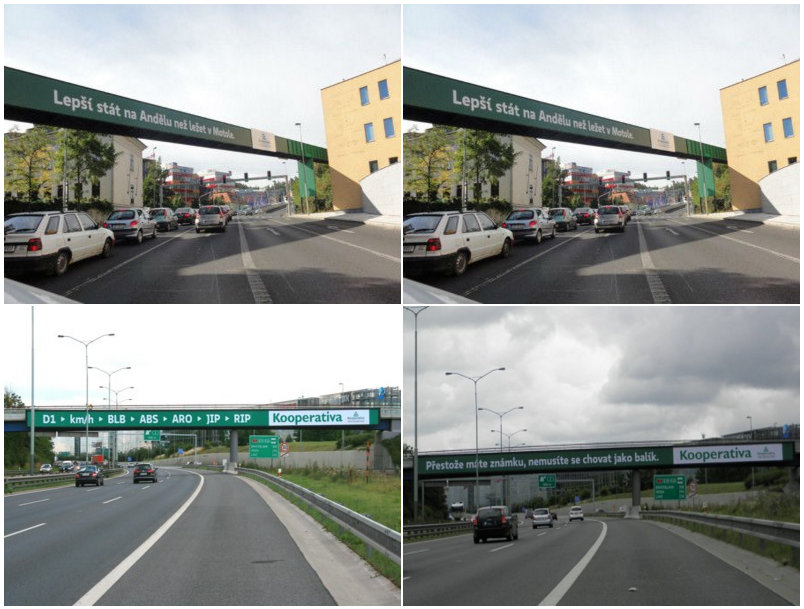 Many more excellent outdoor, print or guerrilla ads find here https://twitter.com/Brilliant_Ads.
4. Video Commercials
Except for T-Mobile, Kofola (in the past also Oskar) I can't forget to mention also other commercials, that were very popular not only in the Czech Republic:
What are your favourite commercials and why?