eVisions abroad – semKRK conference in Krakow
29. 08. 2022
Autor

Miroslava Kuběnová
On Wednesday, the 15th of June 2022, one of the largest SEM-SEO conferences in Poland took place, and eVisions couldn't miss it.
It was the 19semKRK conference, attended by more than five hundred participants and twelve lecturers. Their presentations covered a wide range of topics, from Core Updates to AI threads and opportunities. I have picked the top three presentations worth knowing more about. You can find them below.
It was a well-organised event. The timings of the presentations were clearly and evenly distributed throughout the day with breaks, and questions were asked via Slido website, which made the conference run smoothly. The presenters answered the three most voted questions after every presentation. Even though, there was a high number of attendees in the room, the sound system proved to be efficient and allowed everyone who had to stand in the back of the hall to hear the presentations. Moreover there were several companies and agencies present, so it was possible to network and create new opportunities for cooperation. The overall experience was positive and I would recommend attending the event.
Update conclusions based on data from users in three continents by Michał Szylko
Google makes updates a few times per year, which should bring improvements to their overall ranking processes. Updates caused noticeable changes to how sites perform. You can find guidelines regarding this topic on the Google Search blog.

Mr Szylko took the opportunity and conducted research involving 1000 users from the European Union, 300 from Asia, and another 300 from the USA. The results, presented summarily at the conference, showed clear differences in visibility within distinct fields, such as business, traveling, food and beverages, art and interests, and, last but not least, personal finances. In this research, business and traveling have received negative outcomes of -12,36% and -4,76%.
Summary of update results
Better PSI (page speed insights) scores mean better organic traffic and visibility scores.
DR / TF are mere indicators, not a guarantee of good visibility.
More content does not provide better visibility.
Search intent was most likely the biggest changing element in this update.
Smaller portals (businesses) with matched (more specific) topics benefited from this update.
Probably the largest SEO / Content project in 2021 by Łukasz Walczuk and Piotr Matusiak
This presentation was built on the case study: "2021 articles for 2021". It was a huge success and won second place in the semKRK Awards, in the SEO category. You can find the list of winners on the semKRK page.

The subject of this project was the company Empik. Empik is a sales network operating in Poland for books, music publications, films, games, programs, prints, audiobooks, computer accessories, and press, as well as tickets for cultural and entertainment events, home furnishings, and culinary items, travel gadgets, toys, etc.

"The key goal of 2021 for the SEO & Content Marketing team was to increase the brand awareness related to "non-edito" categories (the categories of the EMPIK assortment of goods outside of the best-selling areas, i.e. music, films, and books)"

The point is that many people knew that they could buy books in the store but were not aware of other types of products in the catalogue, such as electronic devices. It was crucial to bring these other products into the clients' subconsciousness.
Thirty people took part in this project (employees of Empik thirteen SEO & Content specialists, seven consultants in the field of Digital Strategy, Data Science, Outreach, Google My Business, R&D, and SEO Analysis from Bluerank). During the process, 15 tools were used – some of them were customized or developed by Bluerank. The most time-consuming task was the keyword analysis, which resulted in 5000 files within 50 weeks.

"The main goal was to find and assign the keywords to important micro-moments on the user's customer journey".

Afterwards, the team created a script crawl to analyse the competitor's content section, which resulted in an effective way to find content topics. 2021 articles were written within 50 weeks.

Last, but not least, it is worth noting the importance of the A/B testing on internal product crosslinking. They wanted to test which links convert better – for example, they checked that a single article describing "how to care for a dog" converted better when the product URLs were linked to dogs' accessories rather than to books for dog lovers.

One of the key pieces of information, in this case, was that seven out of ten consumers read an article about a product before buying the product for the first time. Moreover, 45% of shopping decisions are made while comparing offers, and and 26% of Internet users do not have a favourite place to shop. This data is on the basis of all future steps.
Summary
The main steps taken in regards to content were among others, to rewrite the outdated articles and to develop new content with the usage of the new keyword phrases. Furthermore, the team improved the internal linking strategy and added the articles to products with reviews and recommendations. Therefore, the users could directly read about the product they were interested in.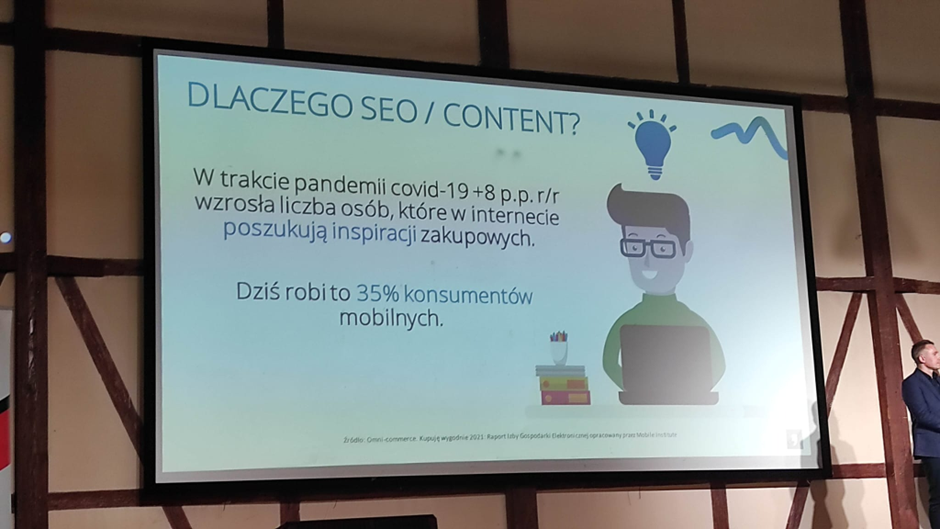 Their strategy paid off, and in the end, they gained more than 3 000 000 page views in the content section in 2021 compared to the previous year. Additionally, they raised 54% of the organic session for Empik Pasje YoY. (You can find more details regarding all the results in the case study.)
Man versus machine – a great test of content generators by Grzegorz Strzelec
Although the name of the presentation might be a spoiler, it was, nonetheless, a surprising, exciting, and informative moment. Mr Strzelec reiterated the role of Artificial Intelligence, which could be used in Copywriting but is generally used in our everyday life. AI is the simulation of human intelligence processes by machines. But the development of AI is becoming unpredictable. As Mr. Strzelec mentioned, "even the engineers do not know anymore how it evolves ". It may sound scary, but it's important to retain that this technology was created to make our lives and work easier.

From the work perspective of Copywriters, some tools save time and improve work efficiency. To create content, it is enough to insert the required topic and some keywords. At this point, human supervision is necessary. However, we cannot predict when humans will not be required anymore for this work, as AI will be writing all the texts by itself. Therefore, even though Artificial Intelligence might cause the loss of a significant number of jobs in the future, the fact is that it has many benefits in the workplace. In the following picture, you can see 10 writing tools supported by AI.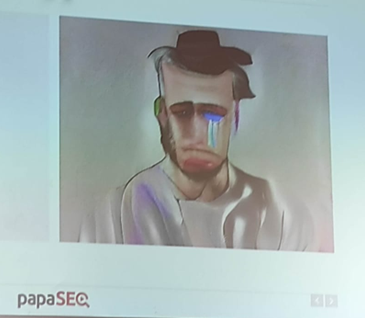 An interesting point of this speech was that AI cannot simulate any emotions. It does not experience them and emotions can be presented in various ways. You can see in the image below that the way "sadness" is portrayed by AI looks rather unrealistic – in fact, it resembles a painting and not a picture of a person. This is a function that AI still needs to master.
Additionally, a comparative analysis was made regarding, among other topics, the risks of automation for different job positions. The analysis featured the following occupations: Search Marketing Strategists, Marketing Managers, Computer Programmers, Proofreaders, and Copymakers. As you can guess, the results showed positive outcomes for Search Marketing Strategists and Marketing Managers, with an automation risk of just 4%. Meanwhile, the negative results, with an automation risk of 82%, were for Proofreaders and Copymakers, and 41% for Computer Programmers.

In conclusion, AI is not perfect. It is, actually, quite fallible at times. For example, at the conference, there was a text containing information about Mr. Strzelec ́s past work experience, but it was not correct. For this reason, AI still needs human supervision.