How we helped build SEO number one in the banking sector #MonetaMoneyBank
16. 05. 2023
Autor

Marek Foršt
MONETA Money Bank is the undisputed leader in SEO in the banking sector. In the vast majority of verticals, it dominates the Share of Voice metric, which is the main SEO metric we monitor and report on a monthly basis. What steps led to this leadership role? And how significant is this dominance currently?
MONETA Money Bank has been our client since the first half of 2019. We built on the good work of the client's previous agency, which helped them create a new SEO-friendly website in the third quarter of 2018.
Thanks to the website's good technical background, we were able to fully focus, right from the beginning of our collaboration in 2019, on content work, linkbuilding, and eventually also on tuning "nice to have" opportunities, which we will look at more in the chapter on SEO strategy.
Our cooperation continues to this day, thanks to the many successes we have achieved together with the client! One such achievement is our joint second place in the 2020 SEO of the Year competition.
Objectives
We see Moneta.cz as a sales tool that must be displayed in organic search results to the widest possible group of users. Given the high competition in the paid part of the results, budget pressures and the seasonality of campaigns, sustained visibility in organic results is the path to steady sales growth.
With this overarching goal in mind, our primary focus is on the following metrics:
organic traffic,
Share of Voice,
overall SEO visibility.
Conversions are not the primary goal, but they are also a secondary consideration – we make sure that the content is relevant, so that we primarily bring users with conversion potential to the website.
Since we began our collaboration, the ambitions and KPIs have only been the biggest:
To be number one in Share of Voice in every vertical.
To increase the already high organic traffic by approximately 43 % to a seemingly unattainable level.
We managed to meet the KPI for organic traffic by January 2021. And what about the Share of Voice metric?
Performance across verticals varies based on how the client's priorities have changed over time. Our long-term priority, however, is loans, where we took over the leadership role in the third month since the beginning of the Share of Voice measurement, which we have held until now. Moreover, Share of Voice in this vertical has been growing over the long term and we are now at 80 %!

What about other verticals? We will take a look at that in detail in the chapter on Reporting, measurement, and evaluation.
SEO strategies
The strategy was primarily focused on content and its support by linkbuilding activities. Priority sections we worked with on the website:
product pages
FAQs
glossary of terms
blog
financial calculators
bank and insurance company codes
commodities
Product pages
Priority 1. The most business-critical pages. Visibility on the most general but also the most competitive product queries in the TOP 3, but ideally in first position.

* Keywords are translated from the Czech language.
How did we achieve this and how do we keep the top product positions?
SEO modules – continuous optimised text on product pages.
High quality supporting content and related perfect internal linking.
Linkbuilding activities – continuous gain of links from relevant sites.
Optimisation of the form of the results in the SERP (titles and meta descriptions, but also, for example, FAQ structured data) in order to optimise the CTR → the higher the CTR, the more relevant the search engine rates the result and the more likely it is to stay in the top position.
In order to cover the widest possible range of relevant keywords, we also work with subpages of the main products – these are patterns such as "loan + amount", "loan + city", "conversion x EUR to CZK", "travel insurance + country" and so on.
FAQ, glossary of terms, and blog
Three main content sections. Creating supporting content to cover long-tail queries about financial institution products and services, specific financial concepts, and to provide deeper and more detailed explanations of financial situations. Emphasis on high-quality internal linking across the web.
Financial calculators
Calculators from leading financial websites embedded in info articles on given topics – 44 pages in total. Coverage of queries with lower business relevance but huge search volume. Thanks to its high visibility, the section serves to significantly raise the profile of the MONETA brand beyond the usual banking topics and is one of the most important sources of organic traffic to the website (in 2021 it brought more than 7 % of the total organic traffic to the website).
Bank and insurance company codes
A section with landing pages for each bank and insurance company code. Coverage of a large range of questions in TOP positions – in many cases in the form of a featured snippet – "position zero". Lower relevance, but again a significant branding effect and source of traffic.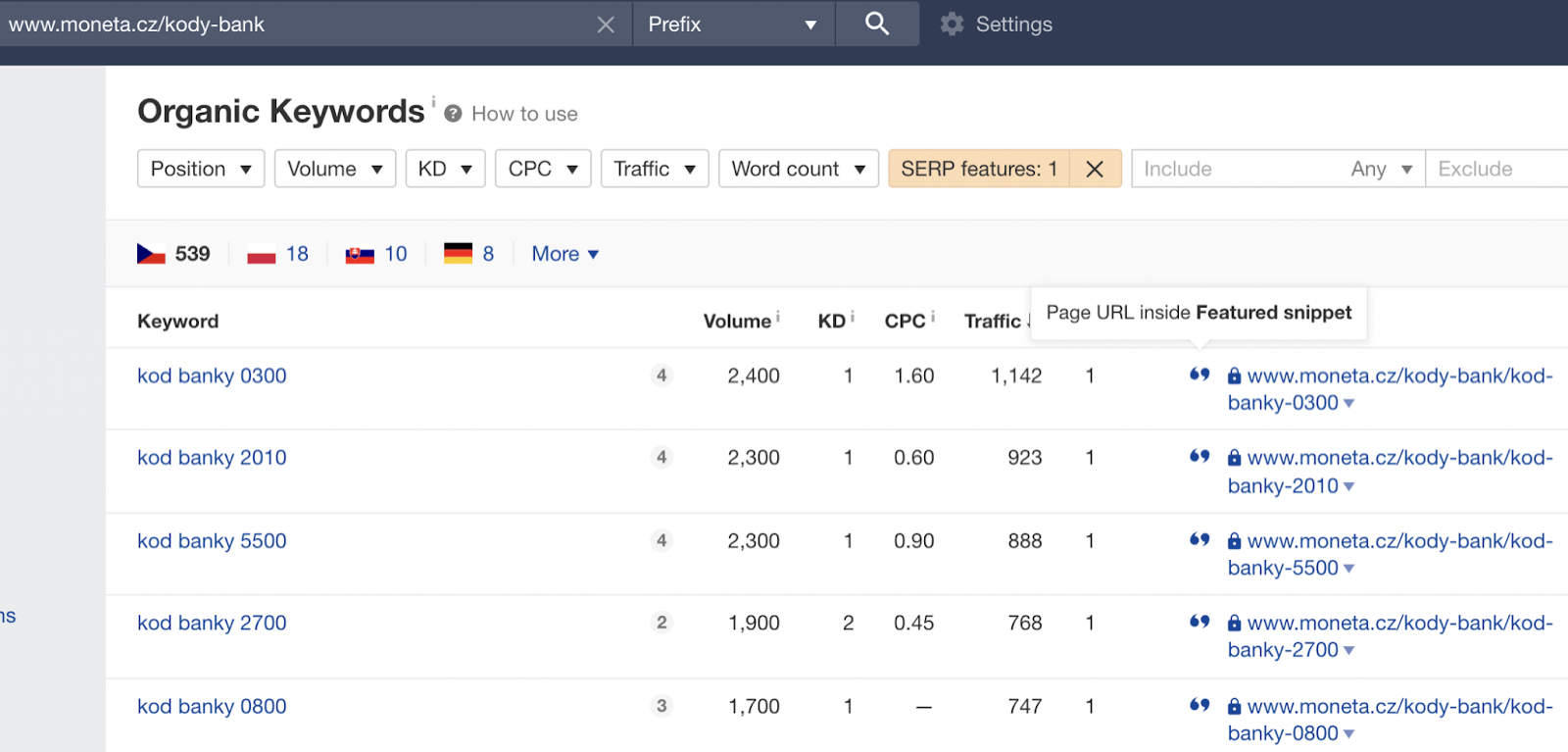 Technical tweaks
Featured snippets
Focusing on queries with the potential to gain featured snippets (code banks) and optimising existing landing pages in content sections to gain featured snippets.
Result – out of a total visibility of 43,000 keywords in CZ, 1,000 keywords are in position zero. This is coverage of more than 2 % in featured snippets. The total monthly search traffic for these keywords in Google search is almost 300,000 according to Ahrefs.
FAQ structured data
An extension that significantly increases the space of search results in Google's SERPs. With this structured data, it is possible to provide the necessary information to the user in the SERP already, but also to attract the user to the website and thus optimise the CTR.
Moneta.cz was the first in the banking sector to implement this extension on its product pages. The competition is also gradually starting to add this extension.
The implementation has led to an increase in CTR and thus also to an increase in traffic to product pages.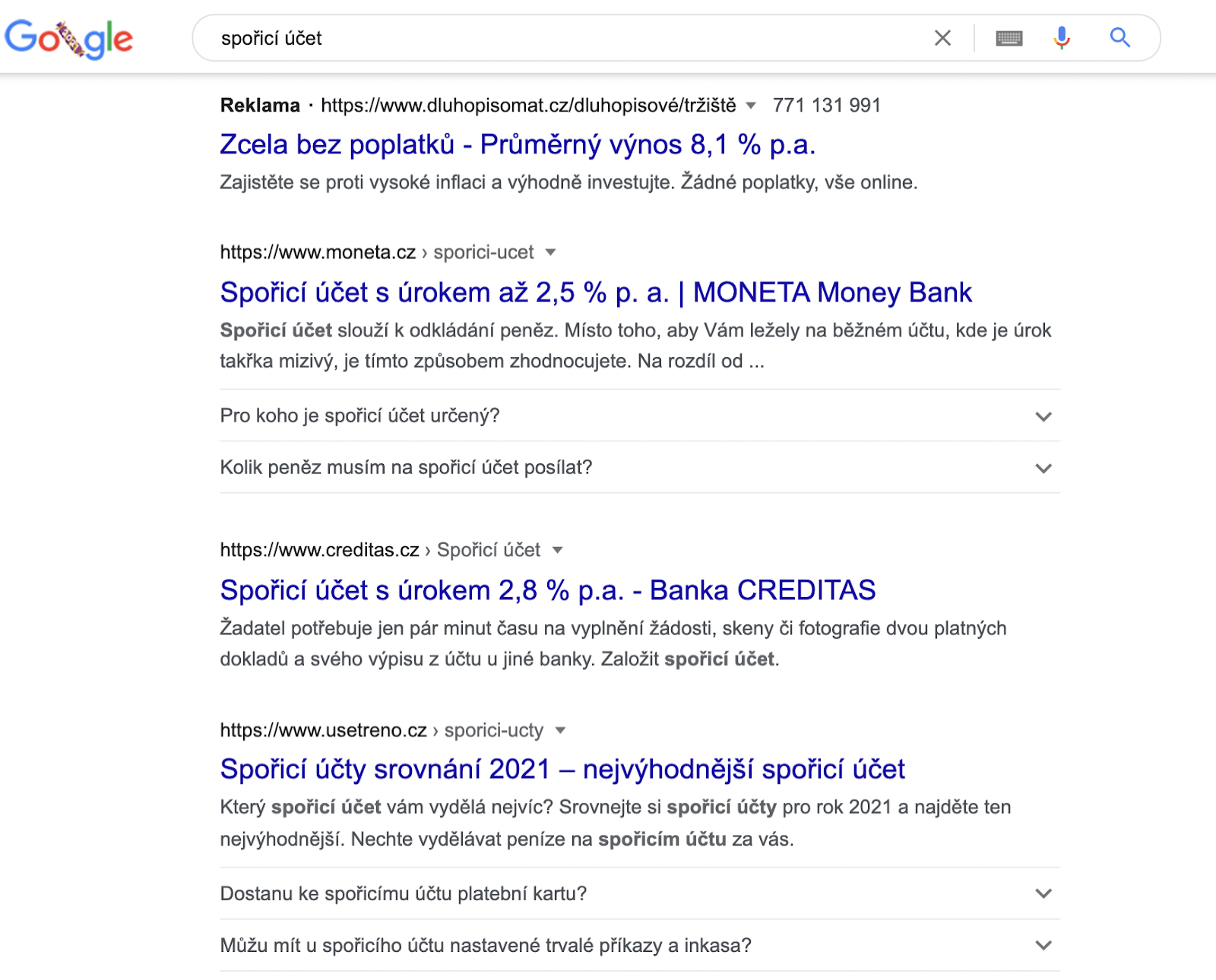 Linkbuilding
Continuous linkbuilding focused on relevant sites and high-quality magazines is also an essential part of SEO. Due to MONETA's big brand name, the capital in the form of a significant number of partnerships to work with for linking purposes was high. The main methods implemented since the beginning of the cooperation are:
linking with partners in the bene+ programme,
linking with brokers,
linking with other relevant financial entities,
continuous collaboration with leading Czech magazines.
Thanks to abundant linkbuilding right from the beginning of our collaboration, we managed to achieve very good results on business-relevant queries in a short time frame.
A one-off linkbuilding activity that contributed to this was reaching out to the most relevant historical websites that linked to Moneta.cz (or the original Gemoney.cz), but only to the homepage, which originally received almost 100 % of the backlinks. Thanks to well-chosen communication, several links where it made sense thematically were redirected to products whose organic performance increased significantly in the first months.
Reporting, measurement, evaluation
Share of Voice
To get an overall view of how we're doing in organic search, in addition to the positions of several thousand keywords, we track overall visibility in each topic using the Share of Voice metric.
For example, for loans, we know which terms pop up for clients on the first page. At the same time, we know the search volume for the entire topic of loans. We compare these 2 figures together to see what the Share of Voice is within each vertical for both our client and competitors. Increasing this percentage leads directly to an increase in organic traffic.

How does the situation in each vertical look in concrete numbers?
Loans
We already outlined the situation in loans at the beginning of this article.
Mortgages
One of the most important verticals along with loans. In addition to its business potential, the vertical also achieves high search rankings – i.e. prospective SEO potential. And like with loans, we are also continuous market leaders in this vertical, with an SOV of around 80 % as of September 2019.

Current accounts
A vertical focusing on current accounts, transparent accounts, student accounts, and currency exchange rates, among others. Due to the high volatility of queries about exchange rates, this vertical is volatile, but for queries purely around current accounts, Moneta.cz's positions are in the top 3.

Savings accounts
Keywords related to savings accounts and savings in general. Long term market leaders with SOV between 70–90 %.

Cards
Verticals focused on debit cards, credit cards, and everything about card payments, etc. Market leaders since February 2020 with minor fluctuations.

Mutual funds
A vertical that discusses investments – primarily mutual funds, but also other alternatives and investment concepts. In terms of banks, Moneta.cz is the best, with only 2 financial magazines currently ahead. However, we were even able to overtake these in 5 months.

Building Savings
Together with personal and corporate finance, the smallest vertical with less than 100 keywords. Thanks to this, all sites in this vertical are performing very well, but Moneta.cz is again the leader with a current record Share of Voice of 93 %.

Personal and corporate finance
Above all, the content vertical is covered by the content section, which is why, in addition to banks, our competitors in this vertical are also financial magazines – especially Kurzy.cz. And we managed to surpass that too in November 2021 and are the leaders in this vertical as well.

What about other metrics?
Organic traffic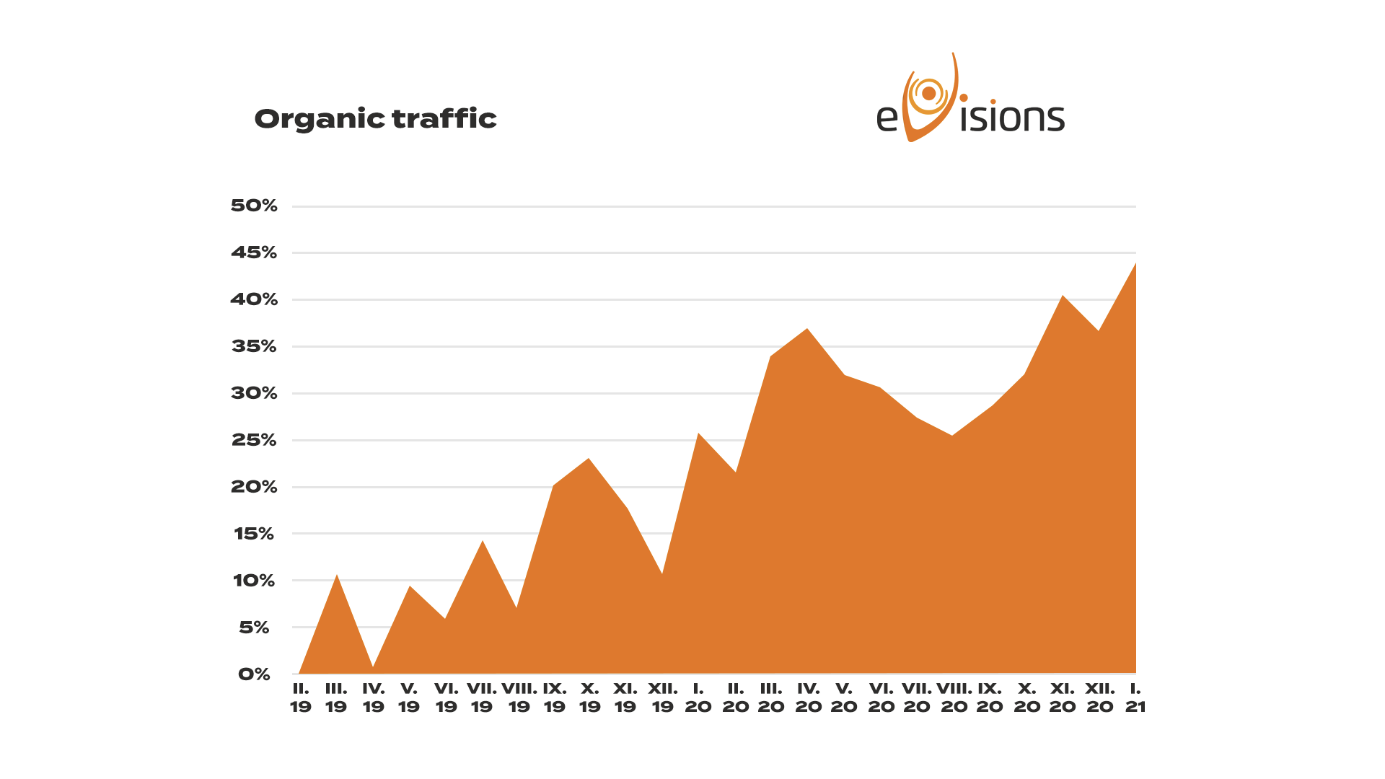 Organic traffic, apart from minor fluctuations (especially during the first wave of the pandemic), has been steadily increasing and from the starting point we were able to meet the KPI in the form of a seemingly unattainable absolute value. We even slightly surpassed the required 43 % increase to meet this KPI by January 2021, and thus met the KPI for organic traffic.
Overall SEO visibility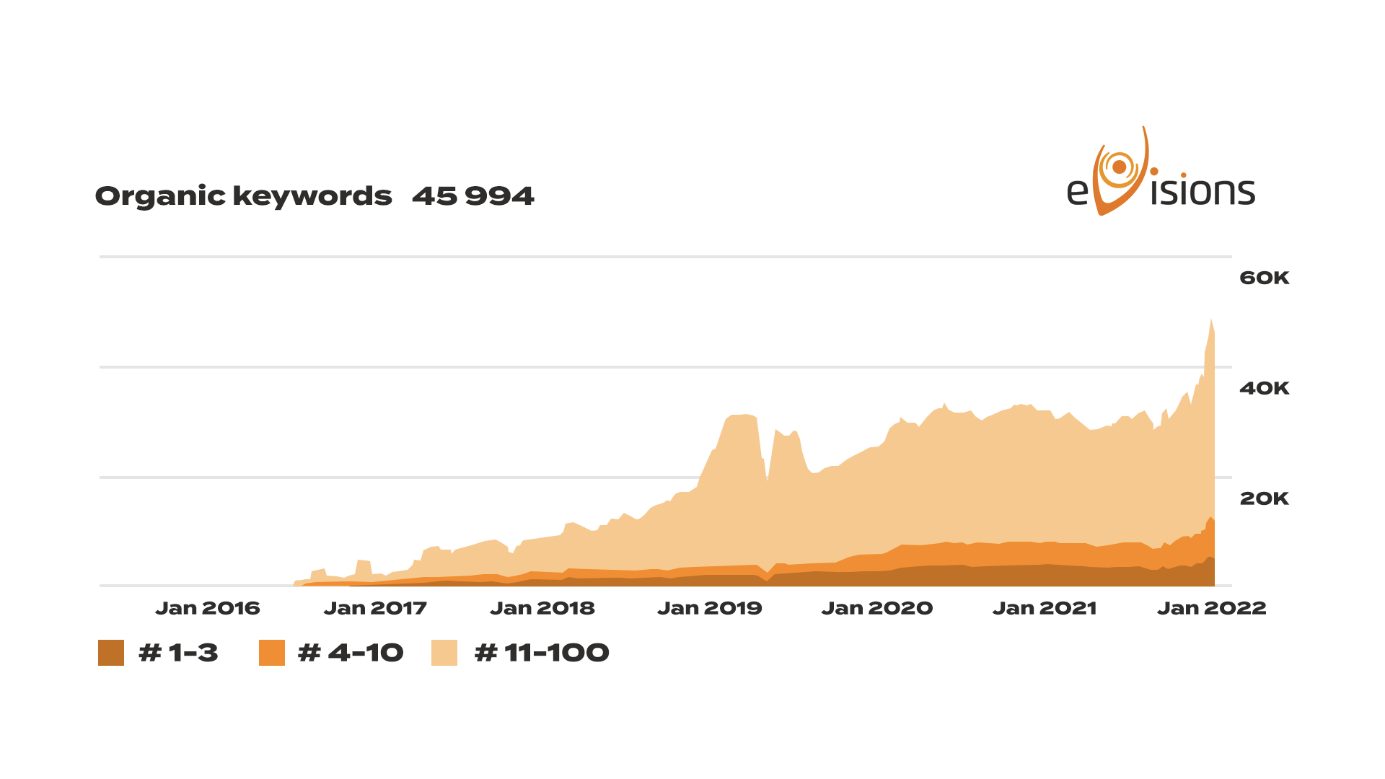 The metrics from Ahrefs on overall SEO visibility also show a positive trend. We focused not only on increasing overall visibility by initiating and creating new relevant content sections, but also on increasing the share of keywords in the TOP 10 and TOP 3, which logically have the highest share of performance. The result is a long-term growth of both overall visibility and keywords in the TOP 10 and TOP 3.
Conclusion
More than 5 years of cooperation with MONETA Money Bank continues and we are happy to be part of building an unquestionable leader in the banking sector in organic search and to continue to help defend this position. Our dominance in organic search is confirmed by Share of Voice data, where we are the leader in almost every vertical, as well as by traffic and SEO visibility data.