The most popular cafés in Prague. Have you visited them all yet?
07. 11. 2018
Autor
Diana Zadáková
Where to go for the perfect avotoast, delicious pumpkin brownie or excellent sweet and savoury sandwiches aka Czech "chlebíčky"? Which café offers also sports events and design products and which one will make you feel like going back in time? I've chosen 17 most favourite Prague cafés that you should not miss.
1. Legendary avotoast and Matcha Latte at Cafefin
One of the most popular and most praised places for brunch, coffee, dessert but also diner is definitely Cafefin. The fusion of Asian cuisine and bohemian interior scored, thumbs up!
Great coffee and varied offer of food guaranteed. If you taste their avotoast, I am sure you'll agree with me that it is legendary. But for those who have sweet tooth, they added also a sweet option: toast with homemade yogurt, figs, maracuya, with splash of honey and topped with nuts. Either way, you'll not be disappointed.
2. Culture, art and gastronomy at Vnitroblock
In the heart of Holešovice district there is a hidden multifunctional spot called Vnitroblock. You can visit this café that is tucked between Tusarova 31 and Dělnická 32 for a cup of good coffee, fo a dance, to buy a nice pair of sneakers, to see a movie and from time to time also to buy original products at local pop-up markets.
In Vnitroblock, everyone will find an event for him or herself – see for yourself. You will especially appreciate it when long autumn and winter evenings hit.
3. Gourmet coffee at La Bohème Café
La Bohème Café is not just an ordinary café. They also roast and supply espresso blends, blends for filtered coffee and gourmet coffee to the most prestigious hotels, restaurants and cafés. This place in Prague 2 is also a showroom of their products.
You can enjoy breathtaking flower décor as well as cosy armchairs. The coffee is served in popular cups that are significant for La Bohème Café brand.
4. Even if you don't know what you are looking for, you will find it in Kavárna co hledá jméno
Everybody from Prague must know Kavárna co hledá jméno. It's interior with industrial design and relaxed atmosphere will remind you that all that glitters is not gold. You will fall for its simply decorated interior and the space that looks more like before reconstruction than after it.
5. Famous breakfast at Café Jen
There are things that we simply love. Its friendship, gourmet coffee, good food and Vršovice district. And that's Café Jen in short. You'll love its little cosy interior as well as their breakfasts which are thought of the most famous breakfasts in Prague.
6. For a cup of a good coffee to Můj šálek kávy (My cup of coffee)
Vršovice, Karlín district, … places where great cafés spring up like mushrooms. This time we are going to the heart of Karlín for a cup of good coffee. And where else to go than to Můj šálek kávy (My cup of coffee)?
7. Coffee Room at Vinohrady – the best place for gourmet coffee and sandwiches
And back to Vinohrady! If we were looking for the café's café in Prague, it would definitely be Coffee Room. Here, you can taste coffee from around the world, the showcase with all the cakes and pies is just a bonus. We should also not forget their exquisite breakfast menu with all the sweet and savory sandwiches.
8. For Extra/Medium/Akorát coffee to EMA espresso bar
Every coffee enthusiast should know EMA espresso bar. It is a place where students, managers and tourists meet to have a sip of a good coffee. Be careful, coffee from EMA is highly addictive!
9. Café Místo has its place on the list, too
Fancy a coffe in nice modern place? Than you should visit café Místo at Prague 6. This kind of place was missing in these surroundings. Boys and girls from Dejvice know this place for sure but for those from the other side of Prague, it can be quite a discovery.
10. To Kofárna Café for a great coffee, healthy snacks and superfast wi-fi
Kofárna is quite a new place located close to bankside at Smíchov. The name of this café has its origins in the word blacksmith's shop which was there long before Kofárna existed.
And what will you find here? Excelent coffee, incredibly delicious pumpkin brownie, superfast wi-fi and very nice staff.
11. Professional pastry and excellent coffee at IF Café
You could probably see the owner of this pastry shop Iveta Fabešová in Czech TV show Na nože. One day, she decided to quit her job in office and to open a little sweet shop at Smíchov. Nowadays, you can already visit 4 branches of IF café and taste one of the most professionally made cakes in Prague – not just tastefully but also visually.
When you visit IF café, your wallet might not be as happy as you. But Iveta is not afraid to champion the cause of higher prices. She says, that a visit to pastry is a special occasion and that if you want to make pastry from high quality ingredients, it will inevitably cost more. All the interviews you can find with Iveta on the internet are worth reading because they offer quite a good insight to café business.
12. A bit of nature in the middle of a city jungle in Spižírna 1902
Fresh, healthy and tasty food which varies according to the season and current ideas of the personnel. Place, where they bake their own cakes according to the family recipes. Welcome to Spižírna 1902! Cosy place that is literally covered in painted flowers. You can have rich breakfast here, weekend brunch, light lunch or canapés in the evening.
13. For berlin coffee to the blooming Urban Café
Just a few steps from EMA Espresso bar there is another fine place called Urban Coffee. Here you'll find not only painted flowers but the real ones all around you. You can order coffee from berlin roasting plant Fjord which is considered to be the best one on the European market. To accompany your coffee they offer daily cakes, pies and sandwiches.
14. Going back in time at Café Letka
It's like it came from a fairy tale. The history of this place dates to the monarchy period. Afterwards, it was closed for more than 100 year when finally its current owners discovered it and brought it back to life. Now, this place with unique location near Letná park offers a lot: coffee, breakfasts, sandwiches, pies, homemade lemonades, excellent chai… You can taste it all surrounded by flowers and interior that lets you go back in years.
15. For freshly roasted coffee to Café Pražírna
Café with its own roasting plant? That's not a dream but a reality. You can taste their coffee right on the spot or take it home with you. Except coffee, they offer lemonades, wine or tap beer. You won't stay hungry either, they serve breakfast and soups with toasted sandwiches during the whole day.
16. For coffee and cakes with style to Café Styl & Interior
Stylish coffe in Vodičkova street where you can even buy the chair you are sitting on. The thing is, it's not only café but a design shop, too. They have almost everything – from brunch and menu of the day to homemade pies, cakes and quiches witch salads. You can have various types of tea, amazing coffee, non alcoholic as well alkoholic drinks. You can savour you drinks or food in design interior, in winter garden or on the garden outside.
17. Coffee Corner Bakery – Corner you shall not miss
Very spacious but cosy place at the same time. Wing chairs, wooden interior and tables suitable for studying or working. This place will really charm you. They offer breakfast, whole meals, great coffee and also cakes. Don't miss this corner in Korunní street in Prague 2!
Map of the most favourite cafés in Prague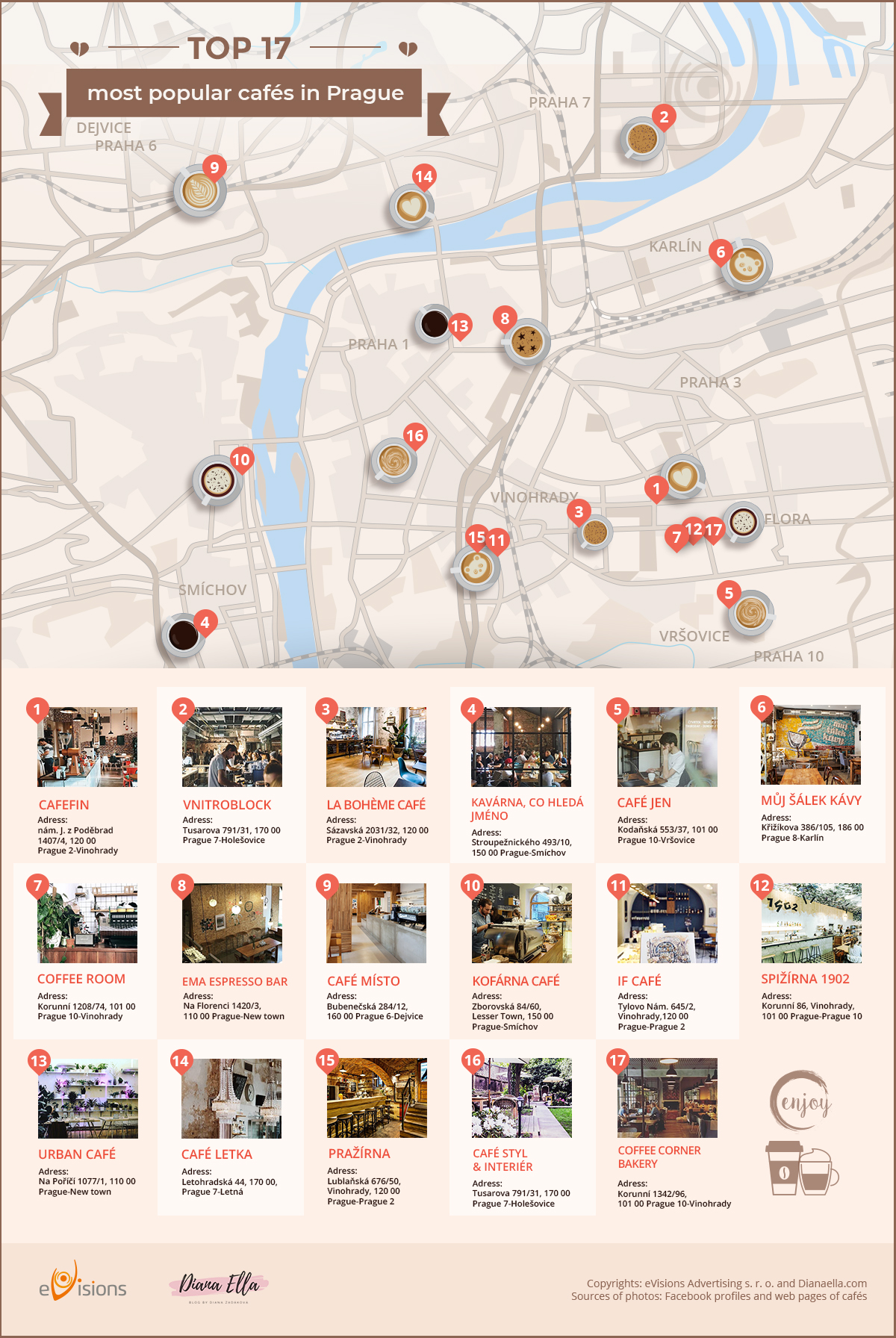 These are the cafés I consider the best and the most popular among the people who live in Prague. Haven't you found your favourite one? Write about it below!
If you are interested in a nice view of the city accompanied by a great food and drinks, don't miss our article about 18+8 restaurants and bars with the best view of Prague.