18+8 rooftop restaurants and bars with astonishing views of Prague
01. 11. 2018
Autor
Diana Zadáková
A lot of Prague restaurants and bars offer delicious meals, great service and stylish interior. Nevertheless, only few can boast rooftop terrace with a view of the city of hundred spires. We have chosen the best rooftop restaurants and bars in Prague which offer unique fusion of a magic view and a top-class food.
Our tips are ideal for a lunch with your business partner, to hang out with friends, have a romantic dinner or a private event. Let yourself be enchanted by outstanding gastronomy, unique interiors and romantic atmosphere.
In the middle of our list you can download an infographics with all the spots listed.
As a bonus, we added 8 more restaurants and bars that do not have a terrace but can offer an equally beautiful view of the city or its parts.
Rooftop restaurants and bars with a view of Prague
1. Sunny terrace at T-anker
T-anker is a great place for those who love beer and a good food that goes with it. This oasis in the centre of Prague is situated at the roof of shopping mall Kotva and offers magnificent view of the Old Town. This place relies on good Czech reputation in brewing. They offer around 9 types of beer on tap and around 40 types of bottled beer from around the world. And its not all about the most famous ones – T-anker is also coworking with small breweries so you can always taste something new.
Concerning food, despite Czech meals you can try also world cuisine such as risotto, steaks, salads and much more. If you're lucky you can have your dinner accompanied by a concert, festival or a party.
2. Coda Restaurant
Coda restaurant is a part of music hotel Aria which lies in the heart of the Old Town. You'll have an amazing 360° view of Prague from the rooftop terrace of this restaurant. St. Nicolas church, Petřín Lookout Tower, the Castle District – all the main sites at your fingertips.
You will be treated by chef David Šašek and your food experience will be accompanied by the interior full of art pieces by Dalí, Chagall, Picasso and many more.
3. Terasa U Zlaté studně
This beautiful restaurant Terasa U Zlaté studně is situated just under the Prague Castle. So meanwhile you are savouring your meal by chef Pavel Sapík you can get swallowed by one of the most enchanting views of the city. In the summer, you can use private entrance from and to the gardens of Prague Castle.
4. Villa Richter Restaurant (Piano Nobile, Terra)
Villa Richter is a unique complex which lies in the middle of Prague Castle. Given its location, high quality of services that are offered and top-class gastronomy, this place is one of the best in Prague. Vila Richter alone is an important classicist building and a striking monument in the surroundings of Prague Castle.
There are two restaurants in Villa Richter – Piano Noble and Terra, both with different menus. Restaurant Piano Noble is specializing in modern Czech and world cuisine. Fans of Italian cuisine will enjoy Terra. The biggest speciality of both restaurants is their list of wines that comes from renewed St. Wenceslas vineyard.
5. Zlatá Praha Restaurant
Right at the end of the most luxury shopping street in Prague Pařížská, you'll find an equally luxury restaurant called Zlatá Praha. The rooftop terrace is on the 9th floor of the hotel InterContinental. From there you can admire the view of (not only) river Moldava. Team led by Roman Dolejš will offer you Czech and international specialities.
6. Terrace U Prince
You will find Terrace U Prince just in front of the Astronomical clock at the Old Town square with a view of the clock, Týn church, Prague Castle and Petřín Lookout Tower. Part of the terrace is roofed and heated so unlike other terraces this one is opened during the whole year.
The view of Prague gems and delicacy of international cuisine is a perfect combination for romantic dinner as well as an important business meeting.
7. Ginger & Fred Restaurant in Dancing House
Prague all around you while France on your plate! Cosy brasserie Ginger & Fred will welcome you on the 7th floor of the famous modern Dancing House. The menu offers international meals but is inspired mainly by French cuisine. We recommend tasting fresh fishes, seafood and othe specialities such as quail or lamb. Enjoy your meal in this special place with 360° view of the surroundings.
8. Restaurant Oblaca
This modern restaurant and bar is located in the height of 66 metres – right in the Žižkov Tower. Thanks to the amazing view and exquisite gastronomy this experience is just divine.
Under the tower, in the middle of Mahler gardens is also another tranquil place with a great variety of great meals – garden restaurant Miminoo. Besides that, you can also relax here in the swings or play minigolf.
9. Cloud 9 Sky Bar & Lounge
Cloud 9 Sky Bar & Lounge is an exclusive place for your private event. Glass fronted bar can hold up to 250 people. You will be amazed by the view from the interior but what you will see from the terrace is even more breathtaking.
10. Restaurant & bar Duplex
Duplex Restaurant & Club is right in the middle of Wenceslas Square. Its long terrace lining the square is a favourite tourist attraction. Restaurant is open during the whole day and its ideal for a lunch as well as dinner thanks to its location and very good food.
When the night comes, Duplex is changing into a music club with comfortable armchairs and music by the best DJs in town.
11. Restaurant Zvonice v Jindřišské věži
In the upper floor of Jindřišská Tower there is a luxury restaurant Zvonice. This restaurant inside a gothic bell tower specializes in meals from Czech venison. Throughout its existence, Zvonice gained awards such as Gurmán, Grand Restaurant and Square Meal. You will be also astonished by its unique interior dominated by massive wood, original giant bell and the view of the old Jindřišská street.
12. Aureole – Fushion Restaurant & Lounge
Restaurant Aureole is prevailing over other restaurants by its unique location. It is situated at 27th floor of the highest building od Czech Republic – inside the Prague City Tower. Hence, you will have a panoramic view of the city from the height of 109 metres.
Take a seat in an elegant interior and choose from rich offer of meals in international and Asian fusion cuisine. You will definitely not regret!
13. Tower Lounge Bar (NH Hotel)
Hotel NH Prague is divided into two separate buildings that are connected by cable car. Tower Lounge Bar is a part of the upper part of the complex which is situated up on the hill Mrázovka. But no worries! Cable car will take you all the way up. The bar offers seating with beautiful view of Prague, in the summer time you can spend your time in here also on the terrace.
14. Balcony Bar
A very special Balcony Bar in the centre od Prague offers a different view of the city this time. From up here you can keep track of everything that is going on at Národní street – from Národní street till National Theatre. The bar specializes in wine, champagne, cava and coctails. If you get hungry, we recommend trying various types of tapas they offer. Balcony Bar is the place to experience evening and night beat of the city.
15. High 8 Bar (Sheraton Hotel)
Warm evening, sunset, refreshing drink and something to eat – success for your business meeting or romantic dinner is guaranteed. You will favour rooftop bar High 8 at first sight. Also, if you are looking for a place for your private event, this bar is what you're looking for.
16. Restaurant & Hotel Nebozízek
Just under the Petřín Tower, you will find a pleasant restaurant called Nebozízek. You can get there taking a beautiful walk through the Petřín park, the lazier – or not that physically capable – can take a funicular that will take them uphill. During the winter months you can enjoy your meal inside the restaurant or in their winter garden. In the summer time, this place offers outside seating with the view of Old Prague, Prague Castle, National Theatre, Charles Bridge and the river Moldava.
Complex Nebozízek (hotel and restaurant) is also very popular for organizing celebrations such as weddings, company anniversaries, birthdays, graduations a so forth.
17. Petřín Terraces
Petřín terraces are situated in the middle of east hillside of Petřín hill and so they offer a breathtaking view of an entire city – from the noble castle district, over to the roofs of Malá strana and river bridges, till the castle Vyšehrad and the horizon of modern Pankrác district. It is one of the most romantic places for private meeting, wedding reception and at the same the the best place for stylish corporate event.
18. Restaurace Balu Kitchen
You will like Balu Kitchen for its cosy interior as for the gourmet European and Czech cuisine. Panoramic view of Prague included. During the weekends, there is a children's corner with loads of toys to entertain them. In Balu Kitchen, you will feel like at home. In addition, you can rent this place for your private event, too. Its capacity is up to 50 guests and the personnel will set up a menu tailored to your needs, provide flower decoration, live music and other necessities.
Map of Prague with all the rooftop restaurants and bars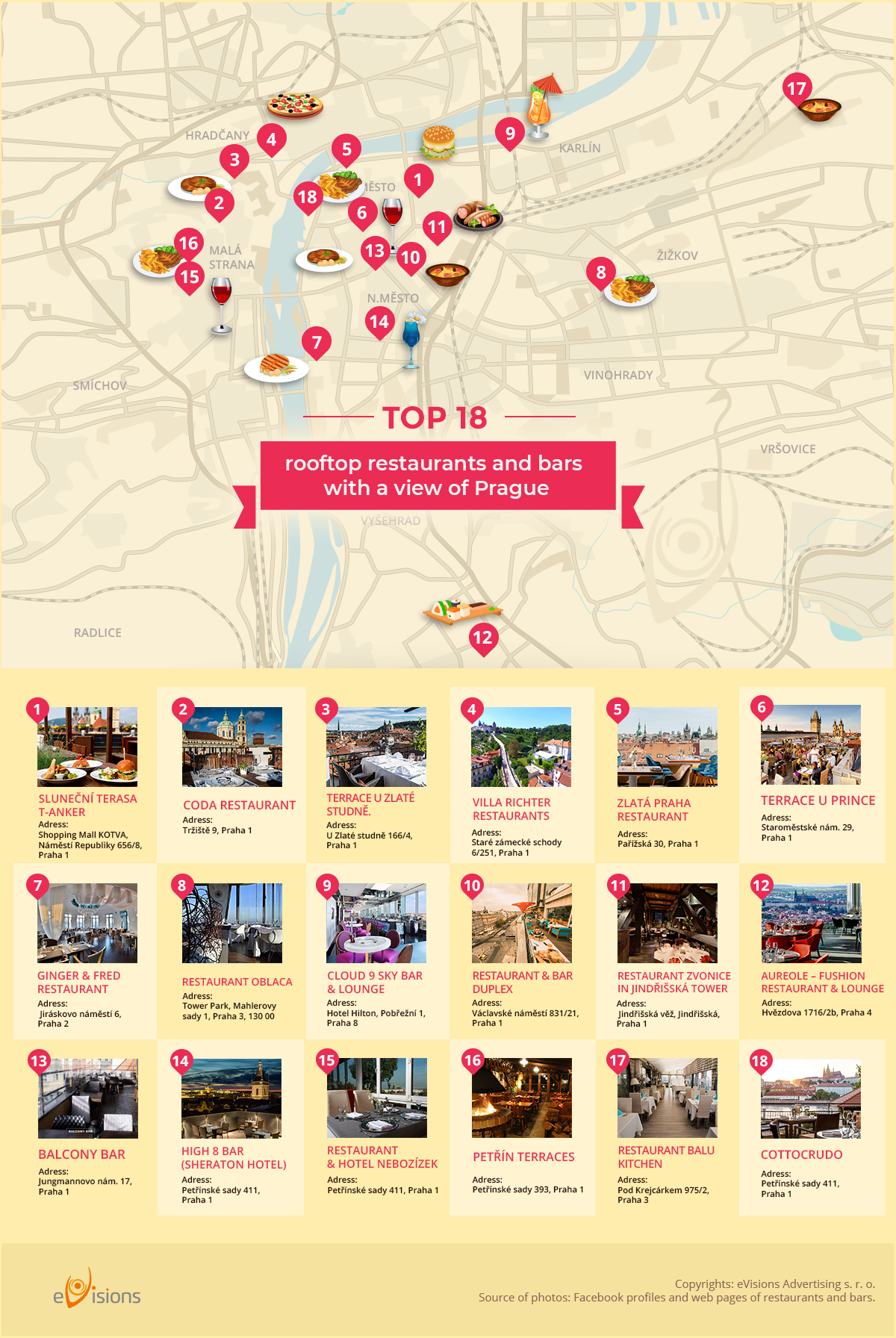 Other restaurants and bars with a view of Prague
19. Restaurace Mlýnec
Enjoy the view of Charles bridge differently! You don't have to crowd with other tourists on the bridge. Just beside the bridge, there is a beautiful restaurant that lets you breathe in the atmosphere of The Middle Ages in modern and comfortable interior inspired by dynamic water surface. In restaurant Mlýnec you will savour traditional czech cuisine and experience romantic afternoon or evening you will want to repeat soon.
20. Marina Ristorante
One of the most favourite restaurants situated directly on a boat and offering excellent view of the river Moldava, Charles bridge and Prague Castle is Marina Ristorante. During the summer months you can relish upper terrace with open roof, during the chilly months you can enjoy the view from inside of the boat. It has a big glass window walls so either way you won't miss any of Prague gems.
As the name suggests, Marina Ristorante serves especially Italian cuisine. You can't miss their exquisite pizza bread or tiramisu! Reservation is a necessity, if you want to be sure to have a tranquil seating right next to the windows.
21. Kampa Park Restaurant
Luxury Kampa park is popular among Czech and international celebrities for their gourmet cuisine. It includes perfectly served fish and meat delicacies as well as more than 150 carefully selected types of wine. During winter, you can choose between stylish interior or intimate covered and heated terrace. The terrace is just on the bank of the river so you'll have a beautiful view of the Charles bridge and all riverbank. Just expect the prices to correspond with the precision of served food and drinks.
22. Restaurace Bellevue
Need to impress? If you won't, restaurant Bellevue will do it for you. Special interior accompanied by artwork of the Czech artist Rony Plesl and tables with the view of all prague important sights – that's another perfect place for a celebration of anniversary, meeting with important business partners or a private event. High gastronomy standard guaranteed.
Meals inspired by contemporary trends are prepared by Czech chef Marek Šáda who worked side by side with the best world chefs, some of them awarded with Michelin star.
23. Hergetova Cihelna
Vivid and stylish restaurant Hergetova Cihelna is also situated on the riverbank of Moldava and belongs to the list of places with a breathtaking view of Charles bridge. Turists and Czechs are coming to this special place to taste creative variations of favourite Czech and international plates, salads or fresh sea fishes.
24. Restaurace CottoCrudo
Italian restaurant CottoCrudo offers traditional Italian meals in a modern concept. This elegant restaurant has a luxury address: It is situated in the Four Season hotel in the heart of the city.
As the name suggests, CottoCrudo offers a uniquely new concept. It offers a raw bar (Crudo bar) with Italian fresh fishes and seafood, mozzarella cheeses, Italian salami, prosciutto and fresh bakery. Crudo is kind of sashimi in Italian terminology. You can see the cooks preparing fishes such as tuna, sea dog, lobsters, seashells or oysters just in front of your eyes. Cotto menu, on the other hand, offers cooked meals from quality ingredients such as homemade pasta and other traditional Italian dishes.
25. Restaurant & Botel Matylda
Restaurant specialized in Italian cuisine with wide range of wines from around the world. In the summer months there is a garden on the pontoon and a terrace stern. Perfect place for savouring your favourite meal and letting the time pass by…
26. Soho+ Restaurant & Lounge
Art, colours, diversity – a truly cosmopolitan place. Interior of restaurant SOHO is inspired by the pulsing atmosphere of Manhattan, a place that never sleeps. Positive vibes of the place will strike you right when you come in and stay along all the time you are here. Lovers of Asian cuisine will appreciate excellent sushi menu, those who love long mornings can enjoy an excellent breakfast and a variety of brunches.