Allegro Marketplace
04. 01. 2023
Autor

Miroslava Kuběnová
Would you like to know how to approach e-commerce in a new and different way? Do you want to know more about the Polish's favorite e-commerce tool? Here you can find the information you need and solutions to many of the problems you may have encountered till this day.
What is Marketplace and Allegro?
Marketplace could be taken as a bridge between sellers and shoppers. It facilitates the overall interaction between those groups and helps with promotions of products. The main goal is to improve the revenue, to make the brand awareness greater and create a positive customer experience.
In regards to Allegro, the short explanation is that it is a Marketplace that has been set up in Poland which is focused on B2C…
Furthermore, it stands for opening the door to Polish and European e-commerce for sellers. In 2021 the website reached 13,5 million shoppers in Poland, where in 2022 it was monthly 22 million shoppers and 135 000 sellers.
There are more than 14 categories where you can add your products (e.g. electro , beauty, fashion , auto-moto, health, house and garden). Please note that it is not possible to sell alcohol on Allegro.
The platform has been on the market for 22 years and started online expansion abroad since 2018. This results in a long-term experience which helps in the end to promote easier cooperating companies and increase their revenue. Moreover, the research has shown that Polish inhabitants consider Allegro as a brand nr. 1. This has been achieved by building trust. One of the reasons is that all companies need to respond to customer requests within 24h, that assures fast solution problems and a more enjoyable experience with higher reliability. A tool such as "Allegro Protect" is one of other reasons why it is successful with shoppers.
Below you can see graphs that clearly show the importance of this tool in the Polish market. A total of 30% of Polish shoppers start with a search for desired products on Allegro.

Out of those, 91% end up buying the product on Allegro. 18% of Polish shoppers search for the product on Google, where in the end, still more than half buy the product on Allegro.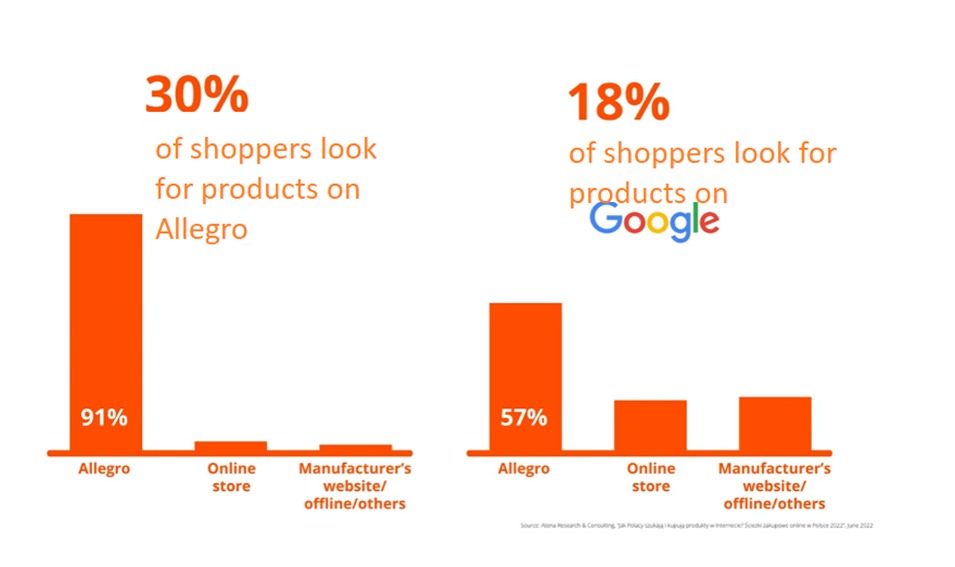 Allegro has completed the acquisition of MALL Group and WE|DO. This opened more doors in Central and Eastern Europe. It has mentioned that it would like to focus on the Czech Republic and Slovakia, but will continue its overall international expansion.
Has this caught your attention and you want to know how to sell on Allegro?
First, let's start with the question which interests mostly everyone and that is…
How much will it cost me to join Allegro and use this marketplace platform?
The fee is the provision from the sale. It depends on the category you sell in, but the provision is between 5% – 15%.
There is payment of 1 PLN (0,21 euro) from every product sold. This can be easily annuled, if you activate any Allegro business package (voluntary activity). Please note that the packages include services such as Allegro analytics which may be really useful for later analysis and planning.
There can be additional fees for exhibited products, but that does not appear often.

If you would like to know how much exactly the fee would be for your product, you can read a long version of their documentation or use the Allegro calculator.
---
Afterall, the process of joining is really intuitive. You would just need to register the company and open the shop. They would most likely require more documentation (such as company and bank account details), but be aware that they cannot be older than 4 months and can be provided only in Czech, English, Polish and German language. If there is documentation in a different language than aforementioned, it would need to be translated to the English language (or Czech/Polish/German).
It is highly recommended to activate the "Welcome Program" after the registration. It helps to reduce operating costs and bring more risk free experience. Research has shown, that sellers using the Welcome Program after joining Allegro, sold their products 2x faster on average and achieved 4x higher revenues than the sellers outside the program.
It has prepared its "Allegro Academy" for its clients (for free) to assure a smooth learning experience that results in easy use of the tool and greater overall efficiency that results in better profits.
---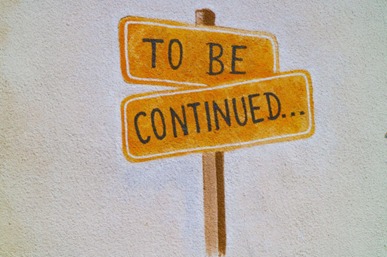 In the article you could find the basic know-how but now it is up to you to check our Allegro knowledge base and start your own exciting Allegro journey…